Opportunities
To apply for a project, please follow this two-step process:
Outline proposals submission – apply through the OSIP platform.
Full proposals submission – apply through esa-star (link to be provided shortly)
Note: Full proposal submission must be preceded first by an Outline proposal step.
An important and unique aspect of the CSS Programme is to allow for multi-disciplinary projects. The eligible activities include any related technologies/products/systems/applications/services in the domains of Earth Observation, Telecoms and Navigation.
Eligible Developments
A non-exhaustive list of eligible activities is depicted below. We are open to hear from you on innovative ideas.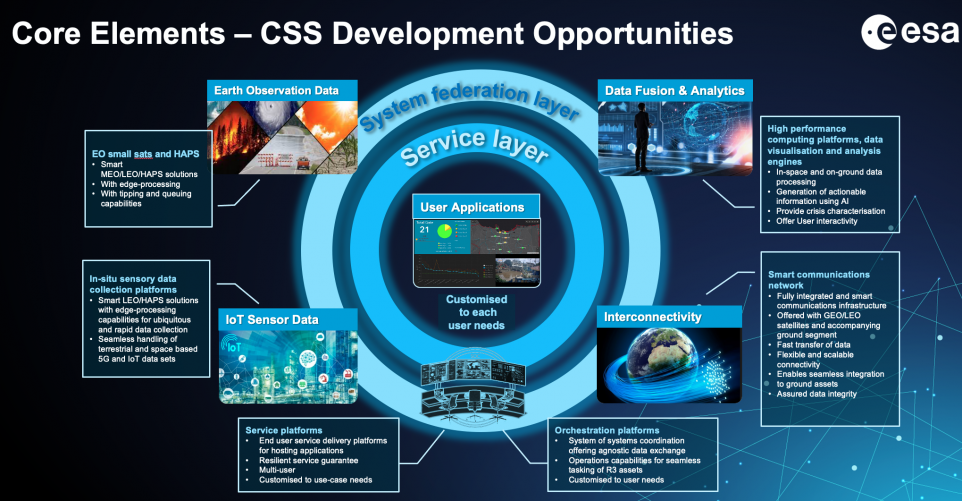 Eligible Application Topics
Civil security teams will use the solutions supported by CSS to conduct activities in the following areas:
Emergency and Humanitarian Relief: Supporting rescue and recovery efforts and humanitarian responses to natural disasters, accidents, and incidents that require immediate attention such as wildfires, hurricanes, earthquakes, floods.
 
Public Health and Critical Resources: Supporting the management of disease outbreaks, coordinating emergency medical responses, and ensuring the safety of food and water supplies.
 
Critical Infrastructure Protection: Protecting critical infrastructure such as water supply/treatment plants, energy supply/distribution systems, communication networks, transportation systems (air, land, and sea) from physical and cyber threats.
 
Environmental Security: Protecting the environment from pollution, hazardous waste and other environmental threats. This includes monitoring air and water quality, supporting the management of waste disposal etc.
 
Illegal Activities Monitoring: Monitoring for the support services in assessing criminal activities, illegal immigration, smuggling, and other illegal activities at sea, in the air and on land.