Developing Future Optical High-Capacity Satellite Networks: HydRON (High Throughput Optical Network)
What is HydRON?
HydRON (High thRoughput Optical Network) is a project within the ARTES Strategic Programme Line on Optical and Quantum Communication (ScyLight) and was first presented at the Ministerial Council in November 2019. 
HydRON aims to demonstrate the world's first (all) optical multi-orbit transport network at terabit/sec capacity in space, extending terrestrial fibre-based networks seamlessly into space – in other words, HydRON will demonstrate the "Fibre in the Sky" and the "Internet beyond Cloud(s)".
The project will enable the development and validation of required key technologies by European and Canadian industry. It will support the next generation of institutional and commercial space telecom missions, which requires yet-to-be-developed advanced communication capabilities.
Background to HydRON
Satellite communications offer global coverage, significantly increasing the reach and capacity of terrestrial infrastructure. This is especially important in remote or sparsely populated regions where the lack of infrastructure limits connectivity. Whilst current radiofrequency-based systems are testing the limits of the available bandwidth, optical frequencies could solve this bottleneck by offering multiple terahertz of available bandwidth with low regulation and interference and thus enabling the future of high-capacity communications in space.
In recent decades, optical satellite communication has been successfully achieved from different orbits, developing and demonstrating key technologies for high data-rate communications. Throughout this time, commercial products have been thoroughly developed for space use (e.g., lasers, optical terminals, amplifiers), enabling operational missions. The first operational service provided by a satellite relay system, the Space Data Highway, is a good example of this.
The future of telecommunications in space is optical. As part of this vision, future telecom satellites will seamlessly become a part of global terrestrial high-capacity networks. Their integration will provide an extension of the terrestrial systems into space, achieving large coverage and improving latency and connection costs even to remote areas.
The HydRON project focuses on two main areas - the wider Vision for the project and beyond and the Demonstration System. The HydRON Vision targets the future of optical high-capacity satellite networks with their required technologies, whilst the Demonstration System focuses on an imminent early-bird demonstration which will prepare the way for the first terabit/sec capacity optical satellite network.  ,
The HydRON vision
The HydRON Vision targets high throughput optical space networks that will address and master the challenges of bringing connectivity to multiple users across different orbits and applications to showcase the capabilities of optical communication technology in end-to-end system implementations (Figure 1). The targeted capacity performance of the HydRON Vision is orders of magnitude greater compared to today's satcom systems (terabit/sec in contrast to gigabit/sec), which has the potential to trigger a true revolution of applications, services and connectivity provided by SatCom. The seamless inter-operability of the optical space network with terrestrial systems is one of the key aspects to provide a perceived integrated infrastructure.
The implementation of the HydRON Vision is considered beyond the scope of the HydRON Project, considering estimated financial envelope and effort. Instead, the objective of the HydRON Project is to define, develop and validate a representative HydRON Demonstration System (HydRON-DS) reducing the complexity of a full system to key elements.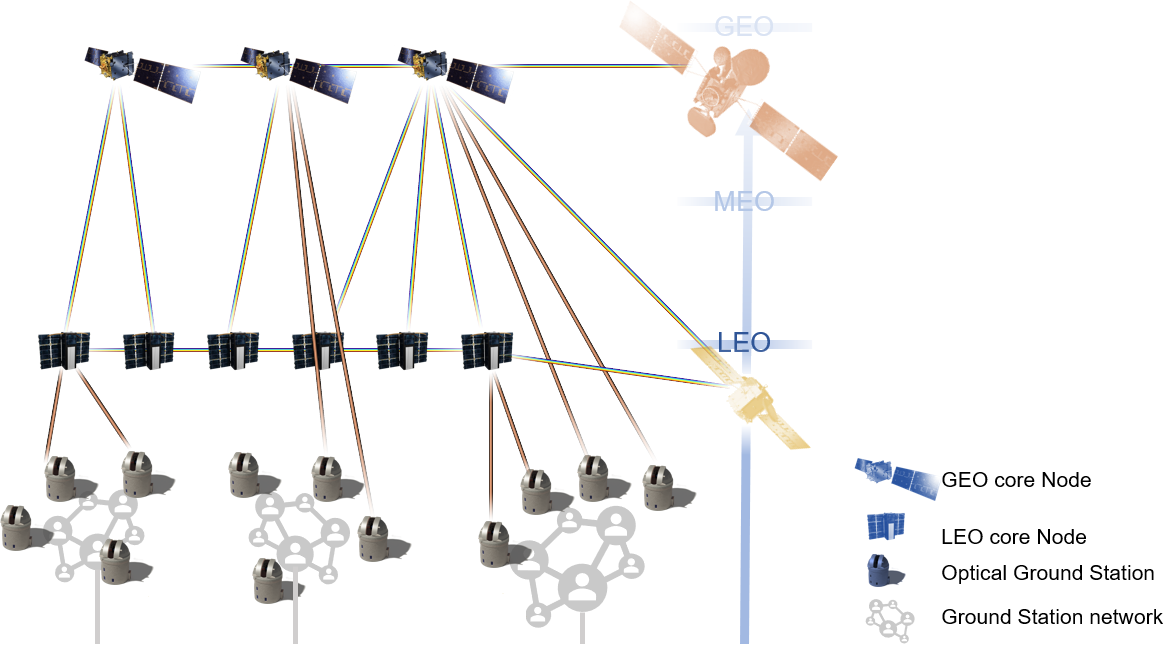 Figure 1 Vision of a high throughput optical space network bringing high data rate terrestrial connectivity to multiple space users across different orbits (e.g., LEO, MEO, GEO) and to ground users located in remote areas with no available broadband access. 
Within the HydRON Project, the HydRON Demonstration System (HydRON-DS) is focussing on the implementation (i.e., development, deployment, in-orbit testing and demonstration) of the minimum number of elements (in space and on the ground, see Figure 2) necessary to demonstrate high-capacity data transport and flexible network capabilities to assets / users located both in space and on the ground.
 
Figure 2 Demo System mission of a downscaled high throughput optical space network (i.e., HydRON-DS), demonstrating key optical / digital technologies and validating operational concepts required for the HydRON vision.
The HydRON demonstration system
In 2022, the Phase A/B1 of the HydRON-DS was initiated with two parallel competitive contracts awarded to industrial teams led by Thales Alenia Space (Italy) and Airbus Defence and Space (Germany). Both consortia are executing the preparatory activities planned in the Phase A/B1 studies, including the consolidation of potential technical baseline(s) (and associated programmatic and cost estimations).
At the same time, the development of a HydRON Simulator Testbed was initiated in 2021 to support the HydRON-DS. The objective is to design, develop and validate a testbed to conduct protocol and algorithm verification & evaluation, and technology demonstration in the end-to-end system. Moreover, the project considers various network designs and implementation options for both space and ground segments, as well as different types of external user interfaces and traffic. Industrial teams led by TAS (Italy) and ADS (Germany), respectively, carry these projects out in parallel. 
Preparations for Phase B2/C/D/E of the HydRON-DS are  now underway. This phase will be carried out  through close cooperation and interaction between the HydRON-DS Industrial Consortium, which will be selected in due course, and the Agency. 
To this end, in 2023 the Agency  launched  a Thematic Call for HydRON-DS, looking for industry-initiated ideas to realise the goals of ESA's HydRON-DS Technology Demonstration mission. This call seeks to collect visionary concepts of e.g., Satellite Operators, Service providers or Primes in response to upcoming business opportunities in the SatCom market (for more information, please visit the Thematic Call page).
Demonstration of Terabit/sec Optical Links air-interface
The "ESA Specifications for Terabit/sec Optical Links" (ESTOL) is a joint endeavour of industry, research centres and universities across ESA member states, coordinated by ESA. It provides a specification for high data rate optical links (towards terabit/sec) to support the implementation and deployment of future optical satellite networks, fostering the compatibility of the physical air-interface between network nodes, as a first step towards inter-networking, interoperability among nodes and networks.
Since the middle of 2022, ESA and its stakeholders have held a series of workshops to assess the interface specifications for next generation optical inter-satellite links and optical space-to-ground links. The outcome and conclusions of these workshops as well as ongoing discussions are collected in the current version of the ESTOL, which be downloaded here. It should be noted that this is a live document that will evolve with the inputs of the contributors.
ESTOL aims to foster the development of interoperable commercial products which:
•    implement technologies for high data-rate optical links and 
•    connect ground and space network nodes of optical high-capacity satellite networks
One of the goals of the HydRON Vision is to implement ESTOL in the development of future satellite networks and their related technologies. As a first step, the HydRON-DS will demonstrate the air-interface defined in ESTOL by implementing the free-space optical links as defined by this specification. 
Related Content
ESA SPECIFICATION FOR TERABIT/SEC OPTICAL LINKS (ESTOL)
News and Events
European space firms set specifications for optical links

Sending vast quantities of data between satellites speedily and securely means using light to communicate. Now a group of space companies, research centres and universities working with ESA has established a series of specifications on how…

ESA-backed TNO consortium establishes first robust optical datalink

A consortium of European industry, led by Dutch firm TNO and backed by the European Space Agency (ESA), has successfully established the world's first robust optical datalink using real-world conditions in field tests held in the Netherlands.

HydRON User Workshop - New date

ESA organised the first Workshop in February 2022 to connect with potential users of the HydRON Demonstration System (HydRON-DS). A second Workshop will take place in Decembe 2022.

…

5th Annual ScyLight Conference points to a bright future for optical and quantum communication

More than 150 attendees including national delegations, industrial representatives of ESA member states, ESA staff members and academic researchers met in Bonn this week for the 5th ScyLight Workshop. This was the first time the event…

ScyLight Industry Day - France

The "Fourth Industrial Revolution" comes with an increasing pace of development and digitalisation, driven - and enabled by vast amounts of data. Already today, the limitations of conventional networks impact the deployment and end user service…

ESA collaborates with Oxford University to deliver online Satellite Optical Communications course

A team of experts from the European Space Agency (ESA) and Oxford University are working to deliver a 3 half day course in May, giving an introduction to satellite optical communications.

ESA awards two contracts for laser-communication projects related to HydRON

Two consortia led by Airbus Defence and Space and Thales Alenia Space respectively, recently kicked-off two projects related to HydRON, both which are being funded by the European Space Agency (ESA). The parallel contracts will allow the primes…

ESA Signs Agreement to Support In-Orbit Demonstration of Spectrum Monitoring Services

The European Space Agency (ESA), RHEA System Luxembourg, LuxSpace Sarl, Aurora Insight and the European Business Reliance Centre (EBRC) are joining forces for the development and deployment of a European Spectrum Monitoring System leveraging…

GREECONNECT Virtual Day - GREEk CONNECtivity small-satellites

The GREECONNECT Virtual Day is an online event bringing together industrial and research actors with an interest in small satellites to receive information on current and future opportunities though the Greek National Space Project. The event is…

ScyLight Virtual Industry Day - United Kingdom

The UK ScyLight Industry Day is an online event bringing together companies and research organisations alike with an interest in optical communication and photonics to discuss current opportunities for UK industry. 

4th ScyLight Workshop 2021 Online Event

On the 8th and 9th June 2021, the 4th annual ScyLight workshop took place online. This year the annual event took place online due to the COVID-19 pandemic. Nonetheless, the event was attended by 284 attendees, totalling 382 registrations to the…
Contacts
Harald Mathias
Hauschildt
ESTEC Keperlaan 1



2200 AG
Noordwijk ZH
+31 (0) 7156 58257