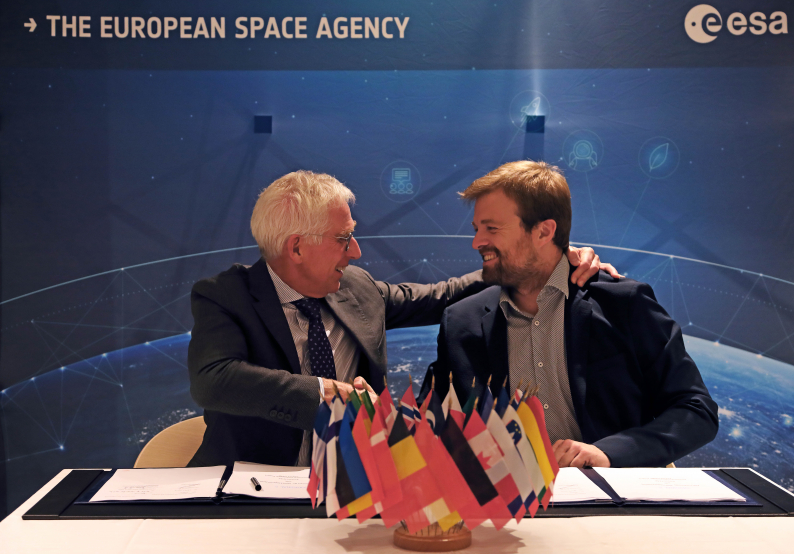 ESA and SWISSto12 have signed a contract for the full development and qualification of a new product line of satellites called HummingSat.
The HummingSat range of satellites, named after the tiny, agile, fast-moving, and yet apparently stationary hummingbird, are being developed under an ARTES Partnership Project between ESA and SWISSto12, one of Europe's fastest-growing aerospace companies and a leading manufacturer of advanced satellite payloads and systems.
The programme's objective is for the new satellite builder to capture a significant part of the expanding global market of small and flexible geostationary satellites. Remarkably for anewcomer in geostationary satellite manufacturing such as SWISSto12, four satellites have already been sold: the first to satellite operator Intelsat, due to be launched on an Ariane 6 launcher in 2026 to support Intelsat's media and network customers, and three to Inmarsat, to provide worldwide safety services and emergency communications for ships and aircraft as well as Satellite Based Augmentation System to enhance precision of standard navigation services.
At around the size of an industrial washing machine, HummingSats are much smaller than conventional geostationary satellites. This makes them more affordable to build, and launch costs are also reduced as they can piggyback on so-called ride-share missions. SWISSto12's groundbreaking 3D-printing technology will help boost the payload performance, streamline the manufacturing process, and reduce the build time and cost of production.
Javier Benedicto, Director of Connectivity and Secure Communications at ESA, said "The HummingSat Partnership Project is a trend setter for the GEO satcom market. ESA is working hand-in-hand with SWISSto12, a dynamic and successful company in the private space industry, leading a European consortium.  SWISSto12 has developed into a new satellite prime contractor and set up a European supply chain. As with previous ARTES Partnership Projects such as Neosat and Novacom, HummingSat is expected to generate exceptional return of investment for European and Canadian States participating in the programme."

Emile de Rijk, CEO and founder of SWISSto12, said "The cooperation with ESA has been instrumental to achieve our commercial and development success so far. The project has been set up in record time, and our SWISSto12 HummingSat team has grown significantly in the last year. We continue to recruit and expand our facilities as well as our network of industrial partners to support the HummingSat development and commercial growth."
The signing of the contract took place at a meeting of ESA's Joint Board on Communication Satellite Programmes on 16 November at the ESA Headquarters in Paris, in the presence of government delegations from the 22 Member States.
The HummingSat Partnership Project is supported by Austria, Canada, Germany, the Netherlands, Norway, Poland, Spain, Sweden and Switzerland.