Pioneer
Overview
Pioneer is ESA Telecommunications programme to support emergence of new providers of innovative space-based services. Pioneer helps develop the infrastructure of these new companies for low cost and quick access to space. The capability to deliver space-based services is validated through at least one Pioneer flight mission. 
Objectives
Pioneer objectives are :
i.  Supporting industry competitiveness by:
Lowering the entry barriers for demonstration of new technologies and applications;
Attracting entrepreneurs and service providers to adopt new solutions.
 ii.    Supporting emergence of new space mission providers:
Single interface for customers wishing to demonstrate innovative solutions;
Affordable and timely access to space;
Operation and decommissioning of space infrastructure.
iii.    Implementation of in-orbit validation missions:
One or more validation missions to demonstrate and showcase the service.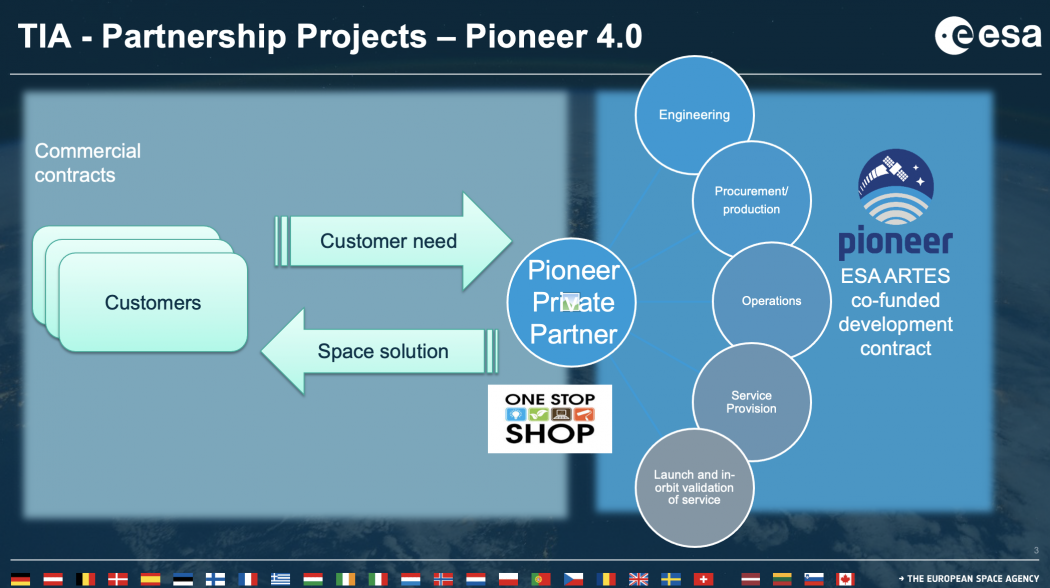 Pioneer Private Partners
To reach the above objectives, the Agency supports the emergence of commercial entities interested in becoming one-stop-shop service providers for public and private customers. Pioneer private partners are expected to:
− act as a single interface point for their customers who want to demonstrate, validate or operate, in a representative environment, innovative solutions requiring new space segment elements 
− offer an affordable and timely access to space for testing, validating and operating innovative solutions that require new space segment elements 
− ensure that the operations and decommissioning of space infrastructure are compliant with relevant international standards and guidelines, including those related to space debris mitigation. 
The Pioneer private partners need to be equipped with: 
− capabilities and competences, including inter alia: end-to-end mission definition, design, assembly, integration and test, deployment, operation, decommissioning, frequency spectrum management, customer interface standardization and tools, etc.; 
− infrastructure building blocks, including inter alia: satellite platform and payload, communication tools and equipment for mission payload data and TT&C uplink and downlink, launch services, insurance services, ground control station for teleporting and communication infrastructure services, etc. 
Pioneer private partners are expected to maximise the re-use of existing capabilities and infrastructure building blocks. 
Validating the Service In-Orbit
As part of the Pioneer Programme, each of the Space Mission Provider is expected to build and launch one (or more) in-orbit validation Mission(s) with the purpose of demonstrating the respective service and as a showcase for future customers.
The private partner shall commit to implement and validate the infrastructure and service provision platform as well as to implement and operate the validation mission. The private partner shall furthermore provide the necessary function and performance validation data to the Agency.
Pioneer Projects :  7 Space Mission Providers independent contracts 
Sapion

Internet of Things service

3U Cubesat lunched in 2021

6U Cubesat to be launched in 2024

Launched in 2021

Open Cosmos, UK

Striving

IOV services

 

Service validation mission planned in 2024

Sitael, Italy

IODA

Telecomms and Earth observation services

150 kg Smallest

First launches planned in 2024

Airbus, France

SAAS

Aviation, maritime and data services

 

3U & 6U Cubesat

16 S/C launched in 2018 to 2021 

3 S/C to be launched in 2023/24

Spire Global, UK

Faraday 2G

IOV services

150 kg Smallsat

6U Cubesat launched in 2021 

First smallsat launch planned in 2025

In-Space Missions, UK

xSPANCION

Telecomms and Earth observation services

 

8U & 16U Cubesat

First 4 S/C launch planned in 2024

AAC Clyde Space, UK

CORVUS

IOV services

6U Cubesat

First launch planned in 2025 

Spacemanic, CZ
Pioneer Partnership Projects (Pioneer 4.0) Open Call for Proposals
The Pioneer Open Call is aimed to offer the opportunity for new companies, from across all ESA member states and associates members, to participate in the Pioneer programme.
Industry can submit proposals at any time during the​ period of the call using a two-stage tendering process. The first step is to submit an outline proposal using the template available in the call.
Outline Proposals should be submitted to the Pioneer Open Call email address: Pioneer_CfP@esa.int
After acceptance of the outline proposal by the Agency and confirmation of financial support from the national delegation, industry will then be invited to submit a full proposal for a Pioneer Partnership Project.
The Pioneer Open Call can be found in esa-star with the following reference:
PIONEER PARTNERSHIP PROJECTS (PIONEER 4.0) - STANDARD CALL FOR PROPOSAL
Open date: 02 October 2023
Closing date:  31 October 2026
Activity Number: 1000038573
Tender Action Number: 4-40011​
Contacts
Philippe
Sivac
Future Platform and LEO Satellite Programme Manager (TIA-PL)
Directorate of Telecommunications and Integrated Applications

+33 5 61 27 37 84
John
Shirlaw
Atlas Development Manager (TIA-TP)
Directorate of Telecommunications and Integrated Applications
ECSAT

+44 (0) 1235 444 332
Clive
Edwards
Principle System Engineer
Directorate of Telecommunications and Integrated Applications
ESTEC